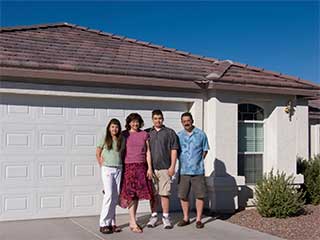 It's great to have an automatic garage door. You just push a button and it opens and closes smoothly. However, automation also comes with responsibilities. As the owner, you have to ensure that everyone who uses the door will do so safely. Here is some essential advice to help you with this.
Ensure Thorough Installation
All components have to be set up and adjusted accurately. This is particularly important for the spring system, which counterbalances the door and facilitates opening and closing. If your door uses a pair of extension springs, they must have safety cables running through them. When a spring breaks, the cable will hold the pieces in place. Otherwise, they can shoot out and cause serious damage and possibly injury.
Is Your Opener Set Up Properly?
The main initial safety measures are associated with opener installation. All devices currently available on the market come with a set of two safety sensors. They send a signal to the opener to reverse the door if there is an object or person underneath it during closing. These have to be installed and adjusted correctly and connected to the opener.
Put The Controls At An Appropriate Height
Each opener comes with a wall button. Many homeowners choose to have a wireless keypad as well. No matter the type of fixed controls you decide to have and what their number is, we recommend you check these are mounted on the wall at a height of at least five feet above floor level. This will make it impossible for kids who aren't old enough to realize the danger, to play with the settings and run the door.
Observe, Observe, Observe
You should always have clear sight of the door when you open and close it, and keep tabs on the remote control. Explain to older children the danger of playing with the controls and don't allow them to operate the door alone. If you have a teenager who's learning how to drive, we recommend you show them how to operate the unit safely first.
Preventative Maintenance Helps
With proper maintenance, your automatic door will be a lot safer. Clean and test the sensors regularly and check they're aligned to face each other. You should also lubricate the moving parts from time to time - this will help prevent rust from setting in.