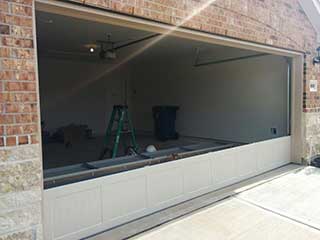 When it comes to fixing a motor or replacing a broken spring, you can count on our team of professionals of Garage Door Repair in Shelton. We have many years of experience in the industry and work with doors and openers of all brands, makes and designs. Our services include not only repair, but also installation and replacement. If there's a need for emergency assistance, we'll aim to get to you as soon as we can.
What Was That Loud Bang?
If you hear a loud bang coming from the garage, it could be that your spring has snapped. Luckily, we can replace extension and torsion springs of all designs and sizes. Our replacement components are strong and durable and we always strive to give our customers the highest possible cycle life.
Openers Have Come Of Age
Good old openers have come a long way since they first came on the market. Now you can connect them to the internet and use your smartphone to open and close your door on the other side of the globe. Still, advanced technology doesn't necessarily mean trouble-free operation. If you hear grinding or find the door suddenly keeps reversing constantly, let us help. We can replace broken moving gears and faulty safety sensors quickly and our technicians are familiar with all the latest technology.
Tired Panels, Rollers & Tracks
A twisted roller can easily bend the track if left unchanged. The rust from the bottom panel can spread to the other metal parts so it's important to treat this early if possible - we can help with it. When it comes to roller replacement, our technicians can also install new parts with nylon wheels for quieter operation. Panel & track repair involves removing any damage or dirt, restoring the condition of the affected section and adding protection to prevent further trouble in the future.
Installing New Parts
If you're looking to replace an existing garage door or opener, you can leave the work to us in confidence that you will get what you want in the shortest possible time. We'll guide you throughout the choosing process and will be readily available to answer any questions and to explain the different specifications. Even if you're working with a smaller than average opening or low ceiling, rely on us to install and adjust the new door properly.
Our technicians will take care of everything so that you can enjoy a hassle-free operation.
We also offer:
Galvanized Torsion Spring Installation
Door Opener Troubleshooting Services
Garage Door Tune Up Services