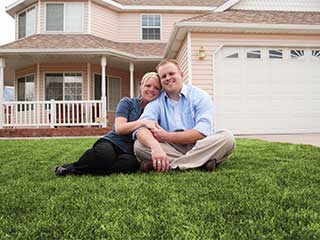 Garages are rapidly becoming an integral part of many holiday celebrations. Rather than simply a place to park the car or store equipment, many are increasingly turning to their garage during the holidays. Many enjoy cooking and dining out on Valentine's Day, but here's an interesting idea, what if you also did something special with your garage space to surprise your loved one?
Your garage usually provides numerous places for hanging decorations such as lights and ornaments. Weather permitting, you could hang love hearts and slogans along the edges and middle of the door. It's also possible to get temporary sleeves or stickers for your garage door - why not surprise your partner by placing a message there?
There may also be space inside the garage along the walls where lights could be hung - another little surprise for your partner when he or she heads to the garage to get their car!
What Lights Are Best For Valentine's Day?
Lighting is a personal preference, but if you have some lying around already, it's always possible to recycle them for this occasion - if you've got Christmas lights already, for example, there's no harm in getting these out. Some prefer the small, white only lighting while others prefer a mix of colors. Red and white is usually a good choice for Valentines Day but there are no fixed rules. Lastly, there's the issue of setting them up - luckily, many garages today have a number of outlets so there should be little needed in the way of extension cords.
Making Things Personal
Suitable ornaments and other decorations can normally be sourced from local party supply stores or online retailers. But in the spirit of Valentine's Day, it's also nice to find ways to make things a bit more personal - even printouts of some pictures together can make the effort all that more special. We've included some more of our ideas below!
An easy way to make cut-out hearts is to fold a piece of paper in half, cut a semi-circle, then cut one edge of the semi-circle off toward the center. Unfold, and you've made your own paper heart! For those who have never done this, rest easy. You can choose to write little messages, spray paint these shapes or simply use colored paper and leave as is!
At the end of the day, there are no rules, just have fun and remember your garage space can be included in the celebration too!